Surgical Procedures
Laser Assisted Cataract Surgery
Drs'. Stancey and Davis offer blade free laser assisted cataract surgery and traditional cataract surgery. With laser assisted cataract surgery, several steps of the surgery are performed with a computer controlled laser to ensure the highest precision and predictability.  The LenSx® laser utilizes a femtosecond laser, which has been used to perform LASIK surgery for over a decade. The same technology that brought new levels of safety, accuracy, and predictability to LASIK surgery is now revolutionizing cataract surgery. The LenSx® laser brings a new level of customization to cataract surgery allowing each procedure to be specifically tailored to each patient's anatomy. With this laser assisted approach to cataract surgery, the surgeon creates a precise surgical plan with sophisticated 3D image guidance of the eye called an OCT (Optical Coherence Tomography).
Benefits of blade free laser assisted cataract surgery include:
Astigmatism correction done at the time of cataract surgery, which is more accurate and reproducible with a laser incision than a manual incision using a traditional blade. Correcting astigmatism at the time of cataract surgery decreases the patient's need for glasses after surgery.
The laser provides a more precise multi-planed corneal incision. This results in quicker healing and less chance of a wound leak. In addition, the laser creates a more precise and centered circular opening in the lens capsule (capsulotomy) which improves the accuracy of intraocular lens placement.
The laser pre-softens the cataract allowing Drs'. Stancey and Davis to minimize the use of ultrasound energy needed to remove the cataract. This, in turn, leads to less recovery time.
Any procedure done with the LenSx® laser is considered premium surgery and requires out-of-pocket charges. We will be happy to discuss this with you during your visit, as well as payment options.
Traditional cataract surgery is very effective and successful. People who do not want to invest out-of-pocket money in laser cataract surgery can still feel confident about the traditional approach. However, for those who want the best possible vision, the laser approach provides a more accurate, customizable, and predictable outcome to help achieve the goal of being glasses-free after cataract surgery!
Toric Intraocular Lens
Toric IOLs are specifically designed for patients with astigmatism. Astigmatism means that the front of the eye (cornea) is shaped more like a football than a baseball. In the past, patients with astigmatism would need eyeglasses or contact lenses, even after cataract surgery. Toric IOLs, such as Acrysof Toric®, corrects cataracts and astigmatism with just one lens, providing a convenient and affordable solution to the patient's vision needs. This type of lens does not provide distance and near vision at the same time. Reading glasses are usually needed after surgery with this implant.
Multifocal Intraocular Lens
In the past, intraocular lenses were monofocal, meaning they were only able to correct distance vision, often leaving patients with the need for reading glasses. The Restor® and Tecnis® multifocal intraocular lenses offer patients freedom from glasses after cataract surgery by improving vision at all distances, from near to far. Most patients do not need glasses after using this type of implant, but a small amount may need part-time glasses. This implant also works better when placed in both eyes, and it does not correct for astigmatism.
For more information please visit acrysofrestor.com or tecnismultifocal.com
Accommodative Intraocular Lens
Accommodative IOls such as the Crystalens offer a full range of restored vision for cataract patients. The Crystalens mimics the natural lens' accommodative capabilities, allowing the patient to see clearly across a wide range of distances. Part-time glasses may still be needed with the Crystalens and the Crystalens does not correct for astigmatism but Drs'. Stancey and Davis can place limbal relaxing incisions in the periphery of the cornea to reduce small amounts of astigmatism.   For more information please visit crystalens.com  
Monovision
Monovision can help eliminate the need for glasses after cataract surgery by correcting the dominant eye for distance and the non-dominant eye for near. Eye dominance can easily be evaluated in the office. Some patients do not tolerate monovision, so a trial with monovision contact lenses is recommended prior to implanting monovision implants during cataract surgery. The standard monofocal intraocular lens or the toric implant for astigmatism can both be used in this situation, depending on the patient's astigmatism.
Testimonials:
Dr. Stancey and her staff are awesome! I chose her to perform my cataract surgeries and intraocular lens implants in both eyes after much investigation and visits to several area Ophthalmologists. I am an engineer and have a high need for data and explanation, particularly when someone is performing surgery on the only two eyes I've got. Dr. Stancey patiently provided me with everything I needed to choose her to perform my surgery. I'm blown away by the results! I've worn glasses or contact lenses since 4th grade (I am now 65), and now see better than 20/20 in both eyes. The procedure was absolutely painless, and I was awake and taking instructions during the entire operation. I have nothing but praise for Dr. Stancey and would not hesitate to recommend her to others.
Jim P. 12-2017
The ORA System-a revolutionary new technology
What is ORA?
Establishing an accurate corneal power is the most important task in arriving at a good refractive outcome post surgery.
ORA is a state of the art inoperative aberrometer affixed to the microscope that is used during cataract surgery.  It allows the doctor to obtain the most accurate measurements possible.   The cataract, being opaque, acts as an obstruction.  Once it is removed, a clear path is opened to the back of the eye allowing for increased accuracy in determining the best intraocular lens implant.
Should I expect to experience any pain during the ORA procedure?
The patient feels no pain or discomfort associated with ORA.  Our doctors experience impressively accurate results using this new technology.
Who benefits most from the ORA procedure and why should I consider it?
ORA increases accuracy of surgical results, it is recommended for any patient wishing to increase the probability of achieving the desired results post surgery.  Establishing an accurate corneal power is the most important task in arriving at a good refractive outcome. ORA is highly recommended for post LASIK or PRK patients, Multifocal and astigmatic Toric patients.
Why do post LASIK and PRK patients benefit most from ORA?
Millions of Americans have had corneal refractive surgery. As these people age, they are now beginning to develop cataracts. These are patients who previously took steps to reduce the use of optical devices, so their postoperative cataract surgery expectations are typically much higher than those of the average patient.  Several factors make it much more difficult to achieve an accurate refractive outcome for postoperative corneal refractive patients. The main problem: Measuring the corneal power is difficult after refractive surgery, so calculating the power of the intraocular lens is much more complex in these cases. Vol. No: 145:10Issue: 10/15/2008 review of Opt 
Once the opaque cataract lens is removed, a clear path is opened to the back of the eye allowing for increased accuracy in determining the best intraocular lens implant.
Why is ORA recommended for Multifocal and astigmatic Toric patients?
ORA helps determine the correct implant power more accurately for both Multifocal and Astigmatic Toric implant patients.  ORA allows your surgeon to achieve the most accurate axis placement when implanting your Toric intraocular lens.
Cataract Surgery
Dr. Stancey was the first Ophthalmologist in Lakeway to perform cataract surgery! She and Dr. Davis continue to provide patients in Lakeway and the surrounding area with exemplary care and a highly personal surgical experience.
Dr. Stancey and Dr. Davis perform this minimally invasive procedure on an outpatient basis at our affiliated surgery center. During traditional cataract surgery, numbing drops are used to anesthetize the eye, and gentle, light IV sedation is used to make you, the patient extremely comfortable. A small incision is made, into which an ultrasound probe is inserted to break up, or emulsify, the cataract into tiny pieces. These tiny pieces are then suctioned from the eye. Once the cataract has been removed, a new, artificial intraocular lens is inserted to help improve vision. A stitch is usually not needed, and all of this is usually done in less than 15 minutes!
Each surgical patient is meticulously tested prior to cataract surgery using the latest in advanced equipment and medical technology to determine which intraocular lens is the best match for each individual patient. Dr. Stancey and Dr. Davis employ the newest intraocular lenses, including the Acrysof Toric® lens for astigmatism, the Restor® and Tecnis® multifocal lenses, and the Crystalens® accommodative lens. Each of these lenses offers different advantages for post-surgical vision. The most effective lens depends on each patient's individual preferences and goals for their vision.
Testimonials:
…I can now see! (I had) uncomfortable eyes & not being able to see across the room.  But (cataract) surgery & my new (reading) glasses brought everything together! -I want to thank you for taking care of me…
Nancy C.
I began to see Dr. Davis after being referred to this practice by several friends. She was wonderful. She offered me a variety of options for my cataract surgery and now I no longer wear glasses at all! The surgery was easy… Dr. Davis is familiar with many options for my eye issues that are leading edge technology. She also has a wonderful casual way about her that makes you feel very comfortable. I can't recommend this practice and Dr. Davis more highly.
Barbara T. 05-2018
Dr. Stancey and her staff are the best. She did (cataract) surgery on both my eyes and I couldn't be happier with my outcome. They are all so friendly and kind and Dr. Stancey really knows her stuff.
Joyce L.
YAG Laser Capsulotomy
After cataract surgery, the back membrane of the cataract is left in place to support the lens implant.  This membrane may become cloudy and cause blurred vision over time.  Sometimes patients will see streaks or haloes around lights.  These problems worsen with time.
YAG laser treatment can make a small cut in this cloudy membrane to improve vision.  There is no interruption in physical activities and no patch after the laser treatment is needed.       
There is a small risk of elevated intraocular pressure, ocular inflammation, and a very remote chance of a retinal detachment or dislocation of the implant through the new opening.
Glaucoma Surgery
When medications, laser or other less invasive procedures fail to control intraocular pressure in patients with glaucoma, Dr. Davis may inform you that surgery is required. The aim of any glaucoma procedure is to lower the intraocular pressure (IOP) to relieve stress on the optic nerve, which has been proven to decrease the risk of vision loss. Unfortunately, if there is any vision already lost to glaucoma, we are unable to restore it, but the goal is to stabilize and not let the vision loss progress. These surgeries require cessation of any blood thinners about a week prior to surgery. Vision may take weeks to recover depending on the pressure of the eye. Patients are told to refrain from heavy lifting and straining for several weeks to months until the eye pressure has stabilized. Additional eye drops are required postoperatively and frequent visits to the office may be necessary, depending on the surgical outcome.
Trabeculectomy
In the past, the only glaucoma surgery offered was called a trabeculectomy (filtration surgery). During this surgery, a flap is made in the sclera (white part of the eye) and conjunctiva (thin tissue covering the sclera). A small passage is made by removing tissue, allowing the fluid to drain from inside the eye to the outer part. This bypasses the diseased trabecular meshwork (drain) in order to lower IOP. Anti-scarring medication is applied to maintain this passage permanently. A small bubble of fluid called a bleb is created to allow excess fluid to drain out.
Express Shunt
The Express Shunt was introduced to minimize some of the risks of trabeculectomy, including excessively low pressures. The surgery is similar to trabeculectomy, but instead of removing tissue, a small titanium shunt is placed to allow the fluid to more easily leave the eye.
Ahmed Valve Implant 

Tube shunt surgeries were performed in the past only after failed trabeculectomies, but many surgeons like Dr. Davis are using them more frequently as the primary surgery. In this procedure, a silicone implant plate is placed under the conjunctiva and sewn to the sclera to keep it secure. The tube portion is inserted into the anterior chamber (front of the eye) to drain fluid. The tube is covered by a donor patch graft to reduce the risk of exposure and infection. Patients may see an elevated area if they lift the eyelid, but in the normal eyelid position, the implant is not seen. Vision is typically blurry for several weeks, but IOP lowering is expected immediately.
Baerveldt Glaucoma Implant 

This is similar to the Ahmed Valve, but is a larger plate to lower the IOP further. This tube does not have a valve so must be tied off with a suture to prevent excess fluid outflow. A pocket of scar tissue forms over the first 6 weeks to gradually lower IOP. Glaucoma medications must be continued while waiting for the valve to open. This surgery is typically indicated in patients with severe glaucoma who need a low intraocular pressure.
Dr. Davis is excited about the new technologies emerging in the field of minimally invasive surgery, including the CyPass Micro-Stent which was FDA approved in July 2016.
iStent
The iStent is a tiny device placed inside the angle of the eye to improve outflow of fluid from the eye, thus decreasing pressure and lowering the risk of vision loss from glaucoma. Dr. Davis performs this surgery either in conjunction with cataract surgery or as a stand-alone procedure. This may eliminate or decrease the number of eye drops you use. There are some patients, however, who do not benefit from the procedure and need additional medication, laser or surgery. The risks of the procedure are similar to cataract surgery, but also include a small risk of dislocation of the device or bleeding in the eye.
The iStent is considered a Minimally Invasive Glaucoma Surgery (MIGS), which is less invasive that traditional surgeries and causes less damage to structures in the eye. Patients with open-angle glaucoma, generally with mild to moderate disease are candidates for the procedure. Overall the iStent has an excellent safety profile and may be a good option to help control your glaucoma.
Actual size of the iStent compared to a penny (1mm x 0.33mm)
Selective Laser Trabeculoplasty
Dr. Stancey or Dr. Davis may determine that laser treatment is recommended to control the pressure inside of your eye. Selective laser trabeculoplasty (SLT) works in a similar way to medications to increase the outflow of fluid from the diseased drainage system. The laser does not make holes in the eye, but rather uses low-energy to stimulate the cells to improve clean up of the drainage system.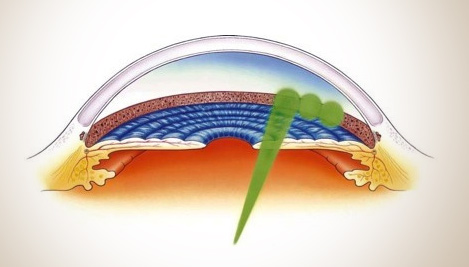 The procedure is done by Dr. Davis at Seton Northwest Surgery Center and takes just a few minutes to perform. We ask you to stay for at least 30 minutes to check in the intraocular pressure after the procedure as there is a small risk (about 5%) that this could increase. The risk is higher in those with more advanced glaucoma or patients with pigment dispersion or pseudoexfoliative glaucoma. If the pressure cannot be controlled with medications, there is a rare chance of need to undergo glaucoma surgery. There is also a small risk of increased inflammation in the eye, which usually resolves with medication.
There is no restriction on physical activity and the eye does not need to be patched afterwards. The laser is effective in lowering the intraocular pressure in 85% of patients. If the laser does not help, additional medications or surgery may be suggested. The effect of laser lasts for an average of 2.5 years but can last as long as 5 years and can be repeated as needed.
The benefits of SLT are great and include potentially eliminating the need for drops in mild glaucoma cases, eliminating the need to remember a drop as this provides continual pressure lowering, and decreasing the amount of preservative medication to the eye, which can lead to eye irritation and damage to the cornea. There is also evidence that laser may be more cost-effective in the long run compared to medication and surgery. Please ask Dr. Stancey or Dr. Davis if you are a candidate for this treatment.
Laser Peripheral Iridotomy
A laser peripheral iridotomy is performed if Dr. Stancey or Dr. Davis determine you have narrow-angles or angle-closure glaucoma. This involves making a small hole in the iris (colored part of the eye) with a laser to prevent glaucoma damage. This allows the fluid in the eye to escape from an alternate route, preventing an emergent angle-closure attack, which is potentially blinding. This is done in the office and takes just a few minutes to perform.
Most individuals respond well to this procedure, but others do not. Your response is determined by the type of narrow-angle glaucoma you have and the basic make-up of your eye. We ask you to stay about an hour after your procedure to check your eye pressure. This is because the pressure in the eye can go up after the laser treatment. This is the greatest risk for this procedure. If it does occur, you may require medications to lower the pressure, which will be administered in the office. Most people notice some blurring in their vision after the laser. This clears within a few hours in most individuals. The chance of your vision being permanently affected from this laser procedure is very, very small. Other rare risks from this procedure include inflammation in the eye, cataract formation, bleeding, double vision, scar formation between the iris and lens of the eye (synechia) that prevents the pupil from moving correctly, and late closure of the iridotomy that requires repeat laser surgery to open the hole again.
Blepharoplasty (Eyelid Surgery)
As we age, gravity continues to work and our skin and muscles begin to lose their elasticity and strength. By removing excess fat, skin and muscle from the upper and lower eyelids, blepharoplasty can rejuvenate puffy, sagging or tired-looking eyes. Eyelids that droop or bulge can cause a person to appear much older or fatigued. This procedure can be performed on men and women alike and offers a younger, more refreshed look. Blepharoplasty is typically a cosmetic procedure but can also be done to improve peripheral vision by lifting droopy eyelids out of the patient's field of vision. In fact, insurance often pays for a blepharoplasty if testing can prove visual significance.
Blepharoplasty cannot be used to raise the eyebrows or reduce the appearance of wrinkles, crow's feet or dark circles under the eyes. It is important for patients to have realistic expectations before undergoing surgery in order to be satisfied with the results. While this procedure can enhance your appearance, it cannot alter your entire appearance or change the structure of your face.
The procedure is performed as an outpatient with local anesthesia and IV sedation. Patients may choose to have this procedure on their upper or lower eyelids or both. Incisions are made along the eyelids in inconspicuous places (in the creases of the upper lids and just below the lashes on the lower lids). Dr. Stancey removes excess tissue through these incisions and then stitches them closed with fine sutures. Swelling and bruising usually subside within two weeks and the patient may resume normal non-strenuous activity after two days.
Ptosis
Ptosis, or droopy eyelids, can affect the upper eyelid of one or both eyes as a result of aging, congenital defects, or neurologic disorders. This condition can occur in patients of all ages but is more common in older patients. Patients may seek treatment for ptosis for cosmetic or medical/vision purposes. Severe drooping may obstruct vision. Treatment involves eyelid surgery, known as a levator resection.
Eyelid Lesions
Suspicious skin lesions around the eyes or ones that are simply irritating can be removed in the office's minor procedure room.
Pterygium
Pterygium is a benign growth of the conjunctiva (lining of the white part of the eye) that grows into the cornea, which covers the iris (colored part of the eye). It can eventually lead to impaired vision.
Patients with pterygium often first notice the condition because of the appearance of a lesion on their eye. Other symptoms include dryness, redness, irritation, inflammation, and tearing. In more severe cases, the pterygium grows over the pupil and limits vision.
Although the causes of pterygium are not entirely known, it is believed to be caused mainly by exposure to ultraviolet light. Prolonged exposure causes the conjunctiva to thicken, eventually leading to a pterygium.
The most common pterygium treatment is artificial tear drops to reduce dryness and irritation and the use of sunglasses. In more severe cases or when vision is impaired, surgery may be recommended. Surgery is the only definitive way to remove a pterygium, but it requires long-term follow up and there is a risk the pterygium can grow back and even become more aggressive.
If you are interested in learning more about any of our surgical eye procedures, call 512-402-9919 today to schedule an appointment.